In this article we show you some basic facts and tips to convey to your customers about how to enjoy and care of this beautiful pet.
Guinea pigs are very friendly and sociable rodents once they have gained confidence,
since at first they are quite shy and scary.
This is because when they are in the wild they are usually the prey of many predators. By instinct, their level of distrust of the unknown is high, so
it is quite normal that they want to hide when they want to catch them.
DATA:
· Scientific name:
Cavia porcellus
· Other names:
Guinea pig, cuy
· Origin:
Peruvian-Bolivian Andes
· Life expectancy:
6 - 8 years

· Weight:
500 - 1500 grs
· Colors:
Black, white, brown, cinnamon
· Size:
20 - 35 cm
GUINEA PIG BEHAVIOR
As we pointed out, guinea pigs
are a sociable species and like to enjoy rest periods throughout the day,
so you will take more than one nap, it is totally normal in them.
Being friendly they
get along great with children from the age of six.
So the smallest of the house will be able to take responsibility for the care of the new member of the family.
We also anticipated that it is a very scary animal. A
trick to gaining confidence
and letting her catch is to hold her with the palm of her hand and gently caress her head and neck. It never has to be held on the back, it is where the predators attack and they do not like anything.
To make it more sociable
you can be encouraged to leave the cage but with caution with the things that are around you
(cables, shoes...), because they are very active rodents and can have temptations to bite them.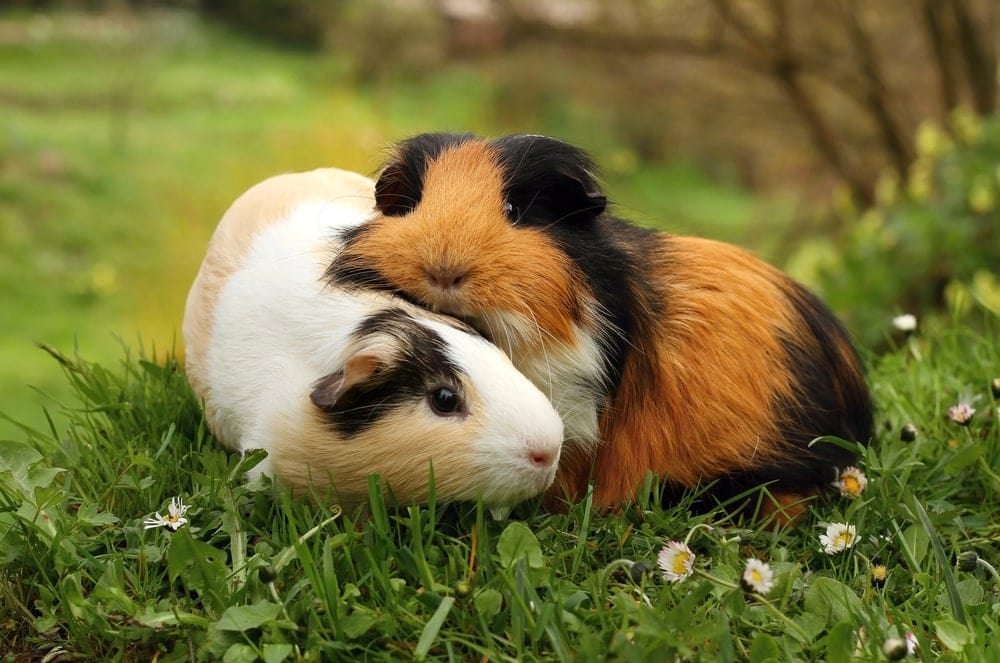 CAGES
In RSL Pets we have several models of cages for guinea pigs made with top quality materials and totally safe for the pet. With attractive designs and everything you need for your well-being.
In addition,
we have all the complements, accessories and toys
to provide the best care and fun.
As for the location of the cage, it must be away from drafts and direct sunlight.
HABITAT HYGIENE

It is essential to clean your feeder and drinker daily and change the bed every two day.
Complete cleaning of the cage should be carried out once a week by rubbing the rods with hot water and neutral soap.
A hygienic tray can also be an option both inside the cage or when they go outside to explore.
The bed either of wood, paper or corn should be changed on demand, keeping the cage neat so that the legs do not suffer damage from moisture or excess dirt.
PET HYGIENE
It is necessary to check from time to time the growth of the nails and the cleaning of the ears.
It is not advisable to bathe a guinea pig frequently, but if it is done, it must be dried very well to avoid possible respiratory conditions. In addition to giving it a pleasant brushing.
Brush the guinea pig's hair whenever possible and give it malt to prevent hairballs from forming in the stomach, especially if it has long hair.
FEEDING
Guinea pigs
need a complete diet that covers all their needs
with high doses of fiber. It is also ideal to provide them with good quality hay, dry feed and fresh food.
It is important to
watch to give them fruits and vegetables that contain a lot of water and few vitamins,
such as lettuce, can cause diarrhea and dehydration.
As for the fresh food they can take: strawberries, apples, bananas, pears, grapes, kiwis, melon, carrots, beets, cucumbers, green peppers, celery, endives and peas. But what you should not miss is hay in your daily diet.
From time to time they can be offered alfalfa or apple branches, or even some snacks, they love it! It will also be beneficial to give them a calcium stone that provides minerals and trace elements for the health of the pet's teeth and bones.